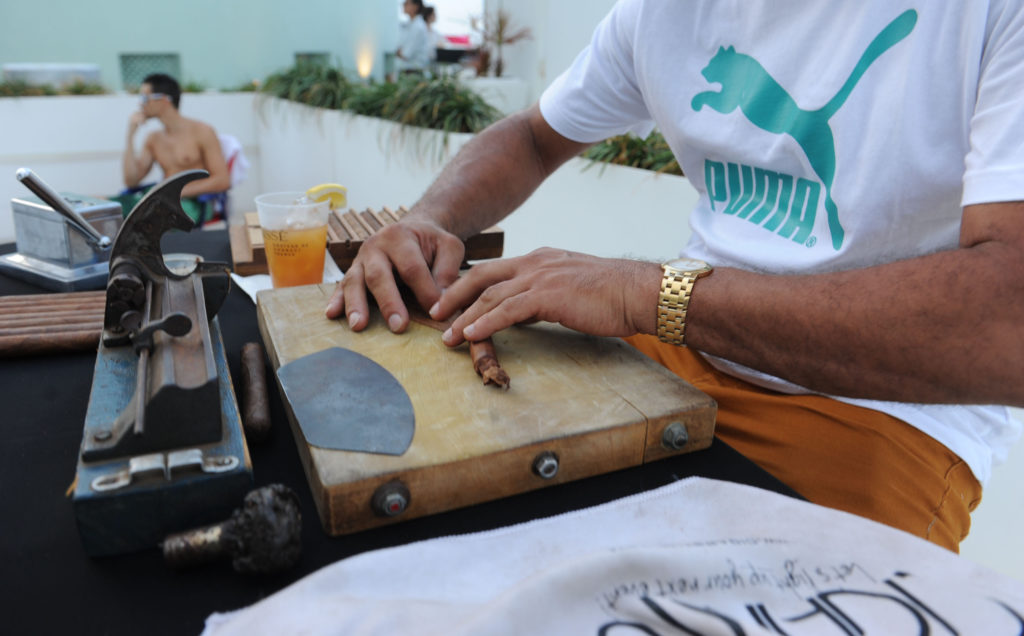 Cigar aficionados will insist that you owe it to yourself to see and experience a freshly rolled premium cigar. Unfortunately, the origins of many premium cigars are unsafe to visit, like the working-class towns of Nicaragua, Honduras, or the Dominican Republic. Your best option is to witness and enjoy the handiwork of a cigar roller in Miami, like one you can hire at Cigar Stud.
Trust us, it's an authentic experience that is definitely on-par with the best cigar makers.
Our Mission is to provide you and your guests a one-of-a kind experience of luxury cigars that will set your event apart from all the rest! Your guests are able to indulge in an array of exquisite, hand rolled premium cigars. They can witness as a "Level 9" Cigar Roller crafts a perfectly rolled cigar just for them.
The city of Miami has a long history of making, rolling, exporting, and enjoying cigars. Although a few cigar factories were already in Florida as far back as 1895, there were no cigar factories in Miami until the largest one was established there in 1961. This was the start of the boom in cigar making and cigar rolling in Miami. The rise of cigars came after many Cuban exiles had to escape Fidel Castro's rule and start a new life in sunny Miami.
The more enterprising Cubans put up cigar companies, and many passed the company along with their cigar-rolling secrets to the next generation. These families continued the tradition of rolling their premium cigars—the fruit of closely-guarded, century-old family recipes.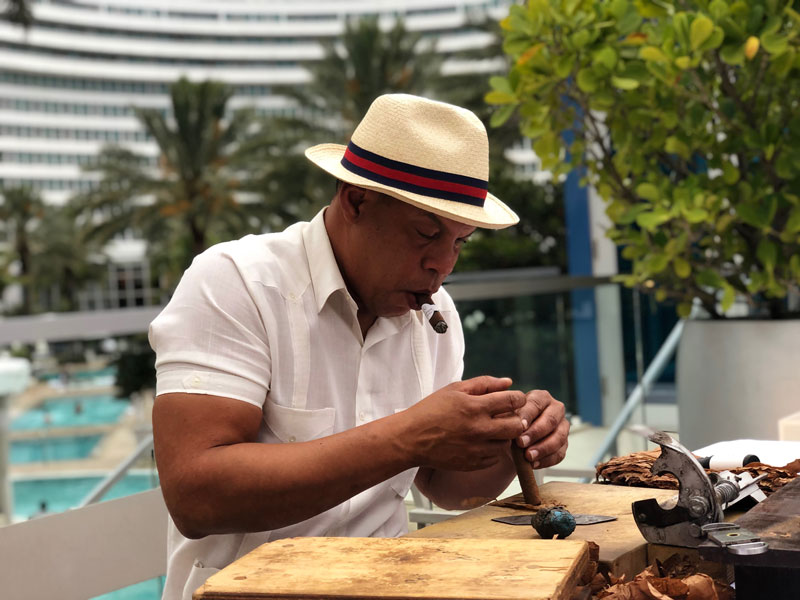 CELEBRATE WITH HAND-ROLLED CIGARS AT YOUR EVENT IN MIAMI
Smoking hand-rolled cigars to celebrate an occasion is a time-old practice. Instead of passing them out from a box, enjoy the unique experience of lighting up cigars fresh from the hands of an expert cigar roller.
When you book Cigar Stud for your event, you and your guests will appreciate the one-of-a-kind treat of seeing a "Level 9" cigar roller speedily and consistently cut, roll, and even light a quality cigar for you. As you will be given cigars straight from the hands of a Master Cigar Roller, you can expect every cigar to be a meticulously crafted smoke you can enjoy for the entire event.
Book our cigar-rolling services to grace your event, and you can expect the following to be part of your service package:
A maximum of 50, 75, or 100 cigars, depending on the number of guests
Premium Cigars to be hand-rolled on-site
A Cigar Host
At least one certified Level 9 Master Cigar Roller from Cuba for your event
Complimentary matchboxes and Cedar spills
SAVOR A UNIQUE CIGAR-ROLLING EXPERIENCE FOR A RANGE OF EVENTS
With Cigar Stud's one-of-a-kind cigar-rolling service, you will make any event a memorable affair.
Explore each of the event sections to know how they can become an unforgettable experience with our service.
WEDDINGS
Cigar rolling for weddings in Miami is a sought-after practice. Before and after the lovely couple exchanges vows, they and their guests can all light up a freshly rolled cigar and savor the luxurious practice of puffing on it.
Enjoy the fun and unique interactive experience of seeing how our Master Cigar Roller meticulously cuts and rolls one great smoke after another, while our Cigar Host assists in the cutting and lighting of each cigar for each guest, and even guiding them to pick the best tobacco blends. Custom packages are available to match your wedding's theme.
CORPORATE EVENTS
Whether it's a product launch, company anniversary or another corporate event, Cigar Stud offers your guests the chance to enjoy expertly-crafted premium cigars.
Apart from the customary toast to mark your company's achievement or launch your product, cigar rolling for your corporate events will surely impress your guests. Book Cigar Stud for your product launch and it's sure to be the talk of the town, and the envy of your industry.
PRIVATE PARTIES
For a different twist to a birthday bash or other private event, why not pass around hand-rolled cigars as party favors? Cigar Stud is Miami's premium cigar rolling service, and we offer quality boutique cigars that are hand-rolled right at your party venue. We suggest cigar rolling for parties, because good food and drink become complete with a good smoke.
DESTINATION EVENTS
Whatever event you host here in spectacular Miami, make it even more unforgettable with premium hand-rolled cigars. Wherever you have your event in the city, we will be there at least two hours ahead to make the necessary preparations. You and your guests will always remember how your special event in Miami was complimented with the rich heritage of local premium hand-rolled cigars.
WHY CIGAR STUD IS A MUST FOR YOUR EVENTS
There are good reasons to book Cigar Stud for your event. Every gathering that features our one-of-a-kind, interactive experience instantly makes it unusual, memorable, and much-talked-about.
It's not every day that you get an authentic Cuban Master Cigar Roller (a Level 9 one, no less) to cater to your cigar-savoring whims for a few hours. It's also rare to have a Cigar Host or two to help you sample the varying sizes, blends, and flavors of premium cigars, hand-rolled before your very eyes.
Cigar Stud's service is an excellent way to elevate your celebration or raise the prestige of your corporate event and be part of an exclusive club— that of cigar aficionados like famous actors, artists, and heads of state. Hiring Cigar Stud's distinct service is a rare treat you'll want to relish again and again.
Our services come in packages of 50, 75, and 100 cigars, but we can accommodate smaller or larger parties with custom quotes.
If you've never experienced a live cigar hand-rolling service before and are intrigued by Cigar Stud, call or contact us for a free custom quote.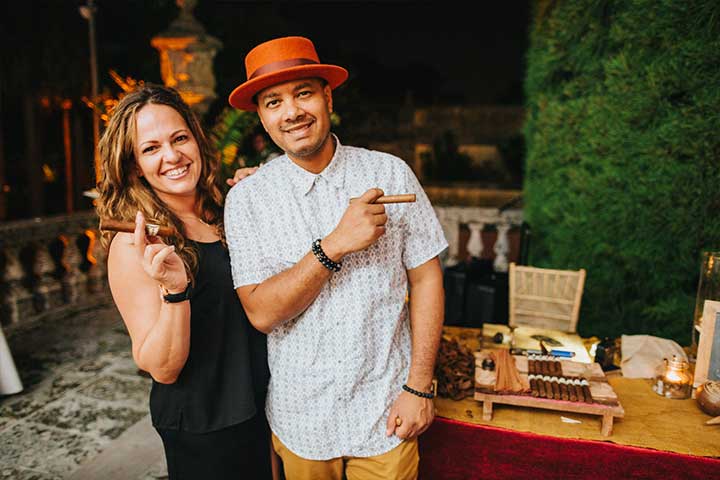 Let's light up your next event!