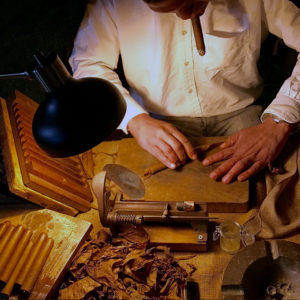 A cigar rolling event is a timeless practice that creates a memorable and distinctive impression on your guests. They will surely appreciate smoking quality cigars and seeing the sophisticated art of live cigar rolling unfold before their eyes.
If you're looking for a company that can provide you with this service, hire Cigar Stud Events on your next gathering.  We offer you and your guests a one-of-a-kind experience that sets your event apart from other events. Your guests will witness a "Level 9" cigar roller in West Palm Beach meticulously make a perfectly crafted cigar. Level 9 is the highest level a roller can achieve, which means that you and your guests will only be getting the most exquisite handmade products from us.
Apart from master rollers, we have an energetic and youthful staff in charge of cutting, serving, and lighting an array of exquisite, premium cigars for your distinguished guests.
When you take advantage of our exceptional cigar rolling services to elevate your event, you can rely on us to provide you with the following:
A Choice of 50, 75, or 100 Cigars Depending on Your Number of Guests
Premium Cigars Hand-Rolled on Site
An Authentic Cuban Roller Who Will Serve as the Master Cigar Roller for Your Event
A Cigar Host
Complimentary Matchboxes and Cedar Spills
Hiring us for your public or private gathering is as easy as lighting a cigar. Just fill out our contact form to book online. We'll send you our quote for our premium cigar rolling services. You can reserve the event date as soon as we receive the deposit. We'll arrive at your gathering a couple of hours before it starts.
Apart from crafting exquisite cigars, we offer professional and high-quality hookah services to make your celebration or gathering more entertaining. Our specialists will mix and match hookah flavors that your guests will surely love.
Providing a Premium Cigar Rolling Experience to a Range of Events
No matter what kind of gathering you will host, you can always take it up a notch with the help of our expert cigar rollers. We transform the following events into upscale occasions:
Weddings – Offer guests the opportunity to participate in an interactive and fun cigar rolling on your special day.
Corporate Events – Give your employees the chance to loosen up and enjoy quality cigars from our master roller.
Private Parties – Captivate your audience at your private gathering with the unique art of making luxury cigars.
Destination Events – Regardless of where your event is at West Palm Beach, you can count on our professional cigar rollers to transform your ordinary evening into a memorable night.
The Cigar Stud Events Difference
We produce premium handmade cigars and set up cigar rolling events that exceed the expectations of your guests. We also pay attention to detail and handle every service with the utmost professionalism.
Clients can trust us to deliver only the best for their gathering. Our five-star ratings on Yelp, Google, and The Knot are proof of our exceptional service.
Let us add a touch of class to your next event. Fill out our contact form today to request a free quote.