A Must: Cigar Bar For Wedding
The tradition of offering cigars at weddings dates back many centuries. In fact, cigars have been a part of wedding celebrations for hundreds of years, and their popularity continues to this day.
In the 1800s and early 1900s, it was common for wealthy families to offer cigars at weddings and other formal events. Cigars were a symbol of wealth and status and were often passed around as a sign of generosity and hospitality.
During the Prohibition era in the United States, which lasted from 1920 to 1933, many Americans turned to cigars to indulge in alcohol without breaking the law. Cigars were often paired with whiskey or other spirits and became a popular way to celebrate special occasions like weddings.
In the mid-20th century, the popularity of cigars began to decline as smoking became less socially acceptable. However, in the 1990s, cigars experienced a resurgence in popularity, thanks in part to the rise of cigar bars and lounges.
Today's Cigar Bars
As the popularity of cigar bars and lounges grew, many couples began to incorporate cigar bars into their wedding celebrations. Today, wedding cigar bars are a popular option for couples who want to add a touch of sophistication and luxury to their special day.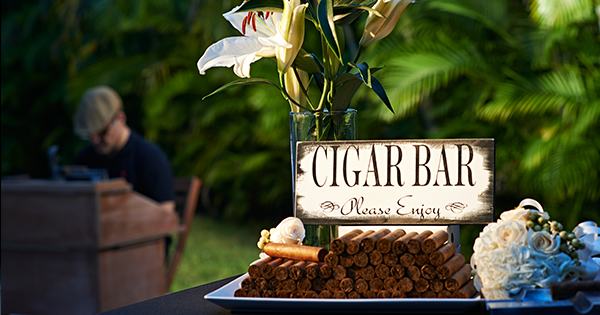 There are many benefits to having a cigar bar at your wedding, including:
Unique and Memorable Experience: Wedding cigar bars provide a unique and memorable experience for guests, making your wedding stand out from other weddings they may have attended. It also adds a touch of sophistication and luxury to your special day.
Great Photo Opportunity: Cigar bars at weddings provide a great photo opportunity for the bride, groom, and their guests. Taking photos while smoking cigars creates lasting memories that will be treasured for years to come.
Entertainment: A cigar bar can be a great form of entertainment for your guests, especially those who don't dance or want to take a break from dancing. It provides a space for guests to relax, socialize, and enjoy a premium cigar.
Socialization: Cigar bars at weddings provide a great opportunity for guests to socialize and connect with each other. It's a perfect icebreaker for guests who may not know each other well and can create a bonding experience.
Customization: With a wedding cigar bar, you can customize the experience to fit your personal taste and style. You can choose from a variety of premium cigars, cigar boxes, cigar bundles, and even have a professional cigar roller on-site.
Perfect Pairing: Cigars are a perfect pairing with other luxury items such as whiskey, bourbon, or scotch. By incorporating a cigar and whiskey bar into your wedding, you can create a unique and sophisticated experience for your guests.
Guest Favors: Cigars can also serve as a great guest favor or gift. You can provide your guests with a custom cigar box or cigar bundle as a way to say thank you for being a part of your special day.
Learn More About Our Cigar Bars
A cigar bar creates a sophisticated and luxurious atmosphere, and provides a space for socialization and entertainment. With customization options and the opportunity to provide guests with a unique and high-end gift, a wedding cigar bar is a perfect addition to any wedding celebration