Cigars and Weddings: Why It's a Perfect Match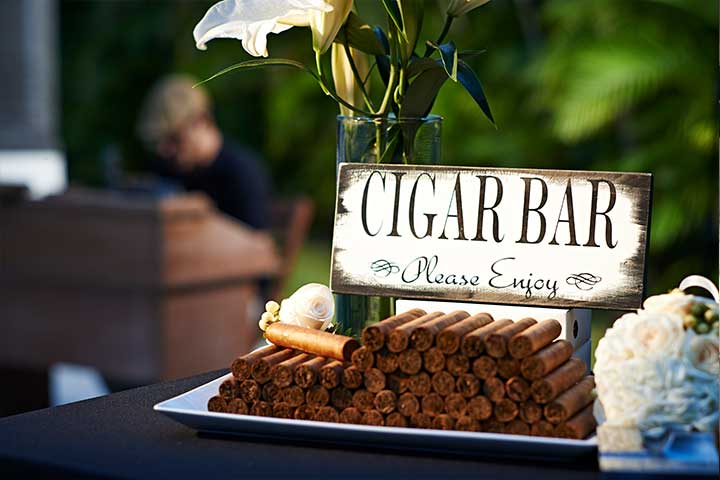 A wedding needs to have the right balance of romance and fun. Though it may sound unusual, incorporating cigars at your wedding is a great way to add more fun and sophistication to this special celebration.
Smoking cigars have always been associated with celebrations, and there are many reasons why it's a perfect idea during weddings.
Unusual fun
The months that led up to your wedding day are stressful. You may not have had enough sleep for weeks and been everywhere to find the best location, food, attire and such, all for your big day. After all the effort you put in this celebration, you deserve a treat and some fun and having a premium cigar is a sophisticated almost decadent way of enjoying yourself.
Some see smoking a cigar as a ritual to mark a life-changing occasion. And while they may not be nearly as stressed as you are, your friends who helped you with the planning process will enjoy being brought into this moment of sweet celebration.
Make drinks better
The reception is the part of the wedding when everyone, including the bride and the groom, finally let loose and have fun. Naturally, this will involve a lot of drinking and dancing and cigars are the perfect addition to complement these activities.
Cigars are known to go well with drinks. Whether it's with a glass of wine for the dinner toast or with a cup of coffee for the late night sobering up after the party, cigars will help you round off the perfect day.
An interesting and entertaining experience
Aside from the option of having cigars available for your guests, you can take it up a notch and hire a cigar roller. Even though not every single one of your guests will smoke a cigar, everyone will be interested in the intricate process of making one.
Professional cigar rollers in weddings are tasked to create cigars from scratch in front of you and your guests. With their techniques, training and experiences, and high-quality materials, having cigar rollers at your wedding is an interesting and entertaining experience that some of your guests will probably not have seen before.
A great remembrance for your guests
If you're out of ideas on what to give your guests to show your appreciation, customized cigars are a great and original gift idea.
You can give your cigars a creative and personalized look that matches your wedding by adding custom cigar labels to them. You can put your initials, personal logo, or even a photo of you and your significant other. Aside from the fact that it's a cool and classy choice of remembrance for this very special day, it can also be enjoyed together later sometime when you want to remember the wedding day.
Light up your wedding day with Cigar Studs. Our master cigar rollers in Ft Lauderdale make weddings fun and interesting by providing your guests hand-rolled premium cigars that will give you your best smoke yet. Contact us today for more details.