Fun Wedding Themes that Include Cigar-Rolling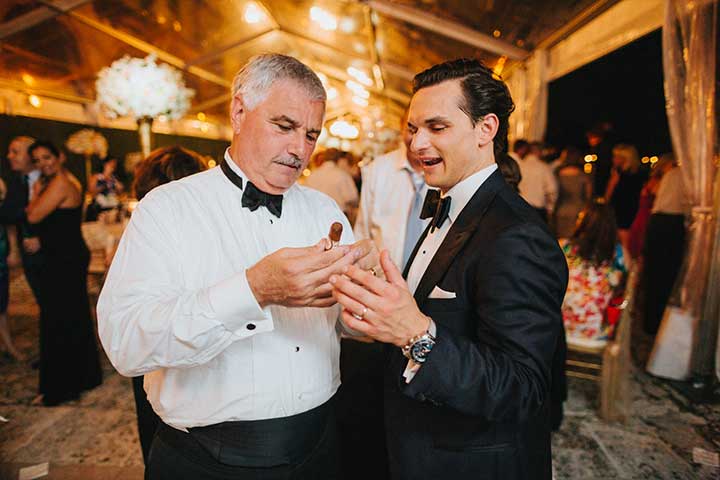 Here in Miami, cigar rolling for weddings is a luxurious treat that's gaining ground. Since we're historically (and geographically) close to Cuba, you can expect a Cuban-themed wedding to be suggested by your wedding planner. Cuban-themed weddings are great, especially since they add fun and the unique practice of cigar-rolling. But if you feel that this theme may be a bit cliché, there are alternative wedding themes.
Here we present two wedding themes where cigar-rolling won't be out of place.
The Great Gatsby
Also known as "the roaring 20's", this wedding theme can definitely involve cigar-rolling, along with other patent Gatsby-inspired looks and accessories.
The Fashion
To pull off the look, start with the clothes. For the bride, she can do away with the traditional long-flowing gown and veil. A Gatsby-inspired wedding dress should make the bride look like a stunning 1920s screen siren. There are different styles for the right Gatsby-inspired wedding dress the bride can adopt for this theme, and the only restrictions for this outfit is that it be white, elegant, figure-hugging and come with a string of pearls. Vintage tiara and a glass of champagne are optional.
As for the groom and groomsmen, their Gatsby-inspired outfit should be matching suits that country gentlemen of that era wore. Think 3-piece suit in tweed, paisley, herringbone or plaid. The accessories should include a pocket square, bow tie or spiffy long tie tied in a Windsor knot, suspenders, pocket watch and brogues. A flat cap or fedora can also complete the look. For a flashier wedding, the men can wear tuxedos or white dinner jackets.
The Hairdo
It's important to also have the hairstyles that defined the era to keep with the theme. For the bride, bridesmaids and lady guests, a Gatsby-themed wedding is a great opportunity to get all glammed up.
A popular women's hairdo was the bob, a style that was mainly short-cropped and the hair made straight, wavy or with curls. This shouldn't be hard to replicate, as many celebrities still sport this hairstyle or a version of it today. While many men were almost always wearing a hat in the 1920's, their 'dos were mainly cut to a medium-length and slicked flat and shiny with Brilliantine, a vintage oil-based product.
The Décor and Accessories
A Gatsby-themed wedding wouldn't be complete without a champagne tower and cigar rolling for weddings. Don't forget to set up the cigar-rolling station close to it, so each guest is never without a sip and a smoke. Ideally, the venue of the wedding reception should be decorated in the art deco style; this can extend even to the look of the wedding cake. At the reception, the guests can be treated to a brass band to play jazz tunes, and have confetti cannohttps://cigarstud.com/4-drinks-to-go-with-your-smoke-4-drinks-to-sip-with-your-cigar/ns douse metallic confetti. Fireworks displays during or after the party can be done to cap off the evening festivity.
`Old Hollywood
Another possible theme is vintage Hollywood. The trick to this theme is to first pick an era, as long as it's not the 1920's or 30's to be too close to the Gatsby them. Pick a decade further down like the 50's or 60's.
The Fashion
Outfits for the groom and groomsmen are relatively less complicated compared to the Gatsby theme, especially if the chosen theme is for old Hollywood in the 50's. Tuxedos were standard for formal occasions, although men could wear a single or double-breasted dinner jacket in black or midnight blue. Instead of a vest, a blue or black cummerbund was worn. The shirt should be a white pique with single cuffs, or pleated with double cuffs. Shirt collars were straight or wingtips. Bowties were midnight blue or black, in the wide butterfly or narrow shape. Men should wear white or black suspenders, cufflinks made of pearl, gold, or colored stones. Shoes would be simple lace-up oxfords or leather formal shoes.
As for the brides, they can mimic the Hollywood stars' gowns, which consisted of a small waist, sweetheart neckline, and full skirt. Lace should be used on the gown, and on the veil and gloves. Bridal gowns from this period would be layered and came with a lace bolero jacket. More modest gowns were also popular in the 50's, so the bride should consider all the available options.
The Hairdos
Most men's hairstyles in the 1950's were clean-cut and short, and usually parted on the side, with any bangs swept to the side. Minimal product like pomade or gel was used. For men with thick hair, the Pompadour or "Pomp" was favored. Women's hairdos tended to be short, with a lot of curls. This was known as the Poodle Clip, or the Curly Bob. On average, a woman would have to use 125 curlers to set the hairdo after each wash, so think about this before picking this theme!
The Décor and Accessories
An old Hollywood 1950's era theme is easy to execute. You can start with a vintage Cadillac convertible for the couple's transportation. Vintage hankies can be your giveaway to guests to help them wipe off their "happy tears". Use lace table runners or doilies for each table, along with vintage flatware and vintage china. The wedding cake should have a floral motif to go with the theme. Don't forget the cigar-rolling table set up near a vintage photo booth, and have classic rock tunes played by the band.
Cigar-rolling booths can spice up any wedding. Think of the cigars as a longer-lasting toast to your union, and as a fun tribute and even a unique giveaway that your guests can savor each time they puff away. Whichever theme you choose, contact us and we'll gladly take care of the cigar-rolling experience on your special day.